At LifeCome Care, we are committed to Making Life Easier for our customers, their family and friends by providing superior care and support in their own homes and within their wider community.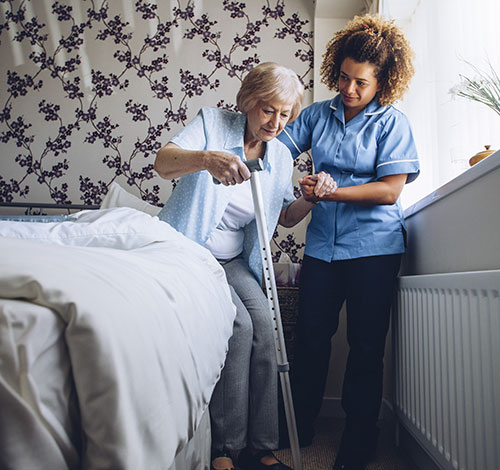 Our speciality is professional, reliable and compassionate person centred care and support that enables our customers to live independently in the comfort of their home. We pride ourselves on providing not just care, but a lifestyle support package. Whatever the nature of your needs, or those of your loved ones we can help. Our approach is collaborative and you decide the level of care and support you require and the types of activities you need help and support with.  We will tailor a flexible service to your specific needs.
We are fully committed to delivering the kind of highest quality care we would want to see delivered to our own loved ones. Our Care and Support Workers have extensive social care experience and training and come from diverse backgrounds and cultures just like our customers. They enjoy working one-on-one with our customers and many of them have cared for their own family members and want to help others.
All of us in LifeCome Care truly treasure the personal satisfaction that comes from helping others to succeed. We are a local, independent  caring organisation and we pride ourselves on providing only the best in dependable, consistent and affordable care to enable you to live independently at home.
Contact us today for a free, no obligation assessment and to find out the kind of short or long term skilled support we could provide for you or your loved one, so as to achieve optimum state of health and well-being.
Our Ethos and Values
LifeCome Care as an organisation believes family values, integrity, reliability, honesty, service and care. Our commitments to you are:
You Matter: We put people first; you're a real person and not a number! We value our Customers and Staff and treat them fairly with respect and dignity.
Dependability of Service with Peace of Mind for the Family. LifeCome Care can help your loved one live independently at home for many more wonderful years to come!
Highest Quality Service for our Customers
Partnership: Working in partnership with you, your family, staff and other professionals for the common purpose of promoting choice and quality care for you, our valued customer.

I would like to say how wonderful and caring Cynthia is - Thank her for me.

Really like the two staff assigned to me. Please don't change them. There is no more dust in my house.

Mrs P's Parkinson Disease Nurse was very complimentary of the care and support Chantal has provided for Mrs P. It's reflected in Mrs P's kitchen and medication cupboard and Mrs P looks happy and contented.

I am really pleased with the support provided by LifeCome Care; they have gone above and beyond in the support provided to my client with special needs.

I am caring for my 92 year old mother-in-law whose main problems are acute Asthma and advanced Dementia. She needs care and monitoring on a 24 hours basis in order to keep her safe. I needed to be away for a weekend and LifeCome Care made that possible by providing wake-in Carers. I found LifeCome Care both caring and professional and was able to stay away without worrying or even ringing to check Mum was ok. On my return I found Mum perfectly fine and not unduly stressed by my absence.

I just wanted to thank you for the excellent care that my mother received whilst we were away. I could tell from my conversations with her that she was totally relaxed and it was a huge comfort to know that she was in such good hands.